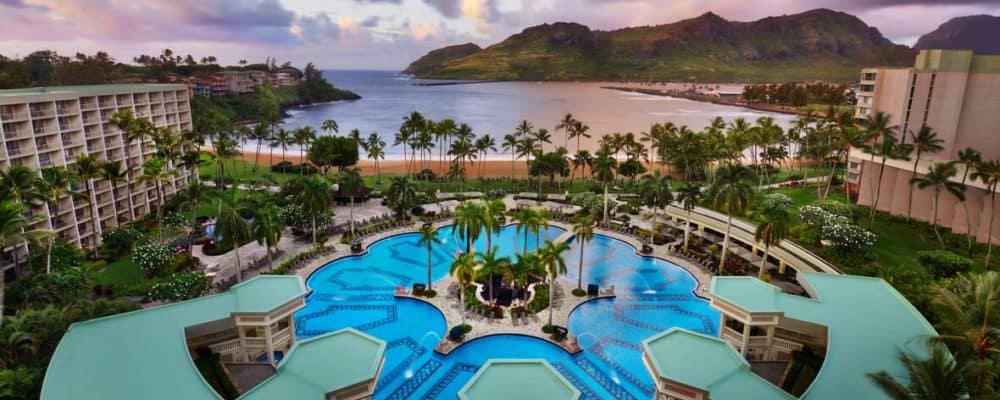 Kauai · Hotels
Kauai is a verdant island known as the Garden Isle. It's one of Hawaii's most picturesque islands with tropical rainforests and stunning landscapes to explore.
Kauai · Hotels
Sheraton Kaua'i Coconut Beach Resort
Why this hotel? Breathtaking Location. Exclusive rates for TravelGay.com customers.
Sheraton Kaua'i Coconut Beach Resort, an LGBT-friendly resort located on the beautiful island of Kauai, Hawaii. Featuring unparalleled views of the mountains and ocean, a stay here will truly be a memorable experience.
The resort provides easy access to some of Kapaa's most popular spots, such as Smith's Tropical Paradise and Wailua Falls. There's plenty of poolside and beach activity also, including various Luau events.
Choose from a variety of dining and restaurant options, with the opportunity to eat outside with an ocean view. The rooms are tastefully decorated and styled, complete with soft luxury linens and cinnamon-wood furniture.
Enquire directly for the best pricing for LGBT parties, weddings, anniversaries, get togethers and more. Please email
alahip@sheratonkapaa.com
.
Have we got something wrong?
Are we missing a new venue or has a business closed? Or has something changed and we have not yet updated our pages? Please use this form to let us know. We really appreciate your feedback.